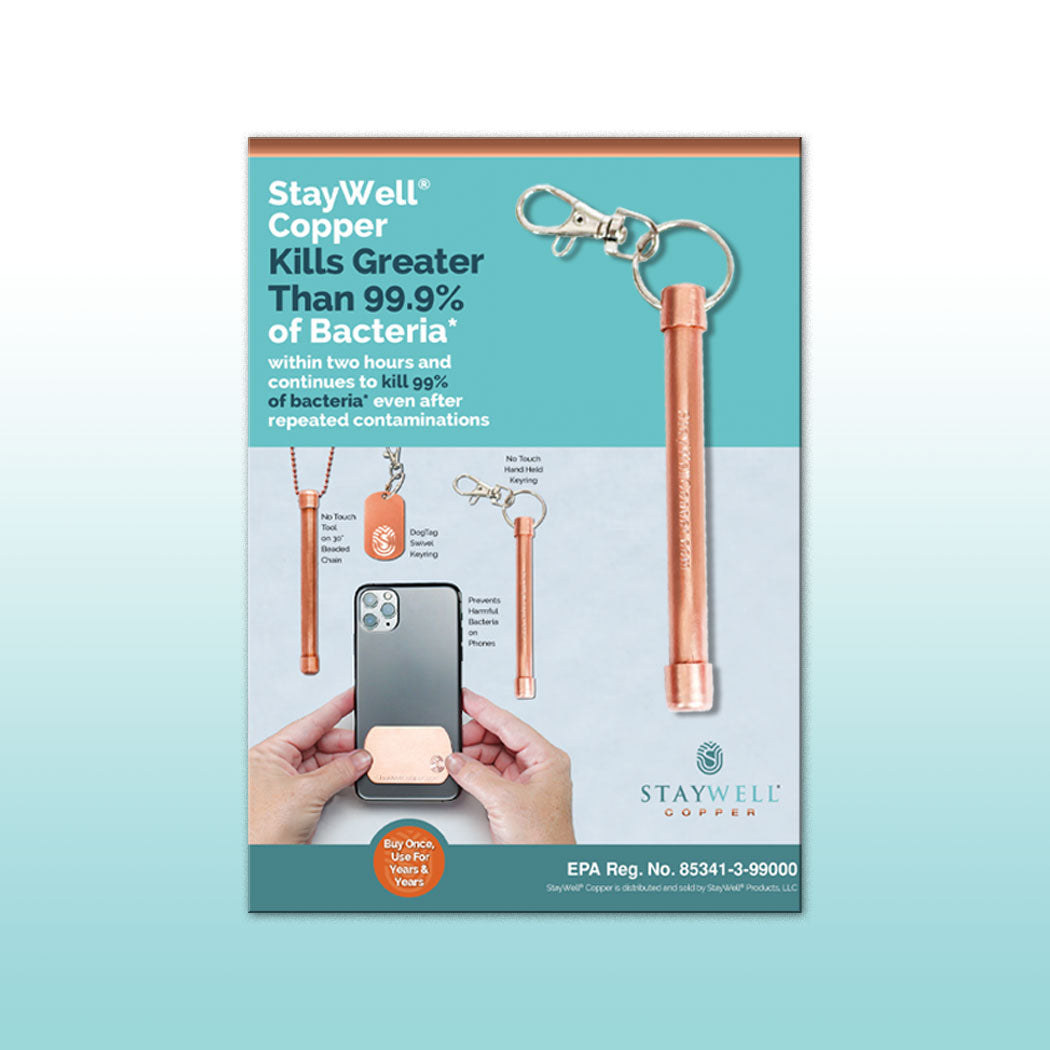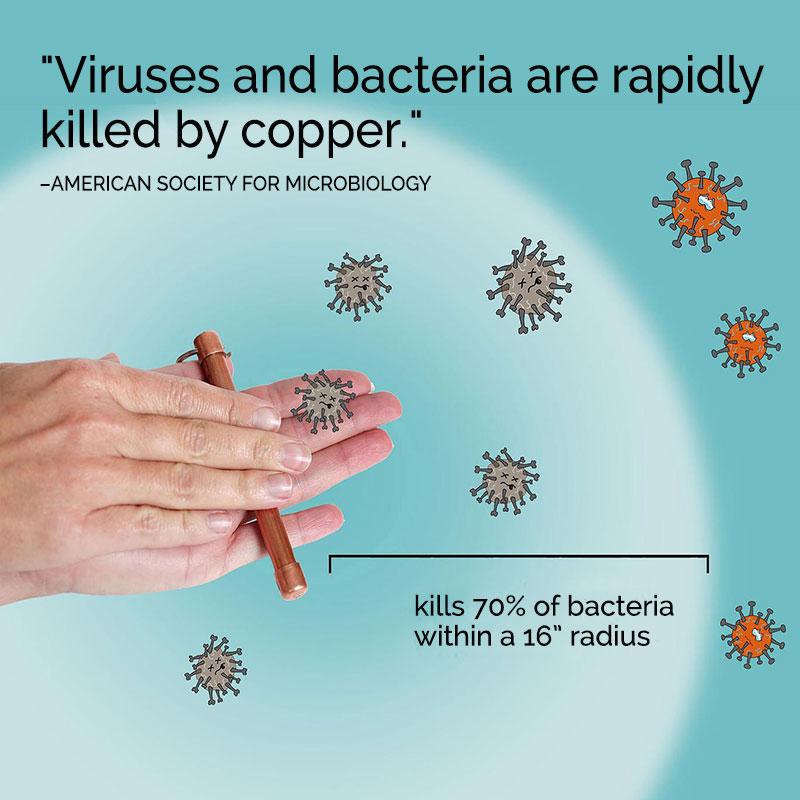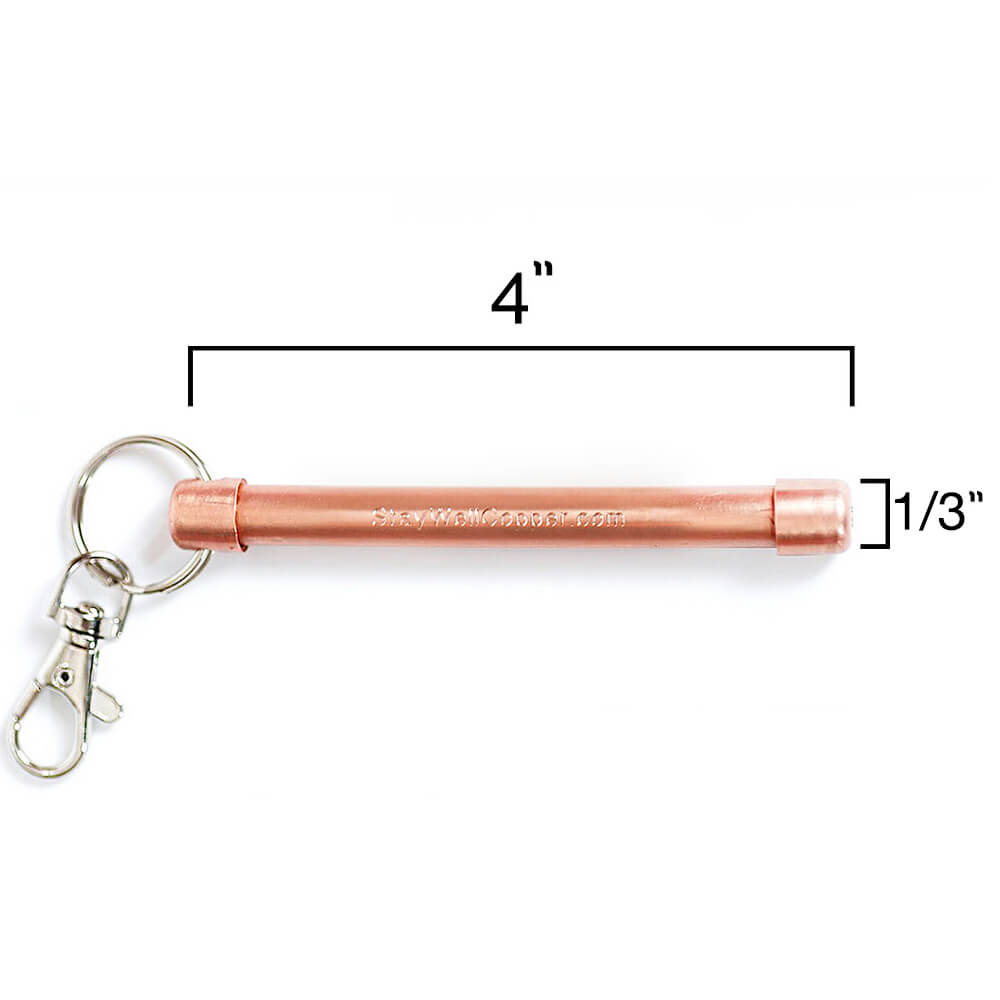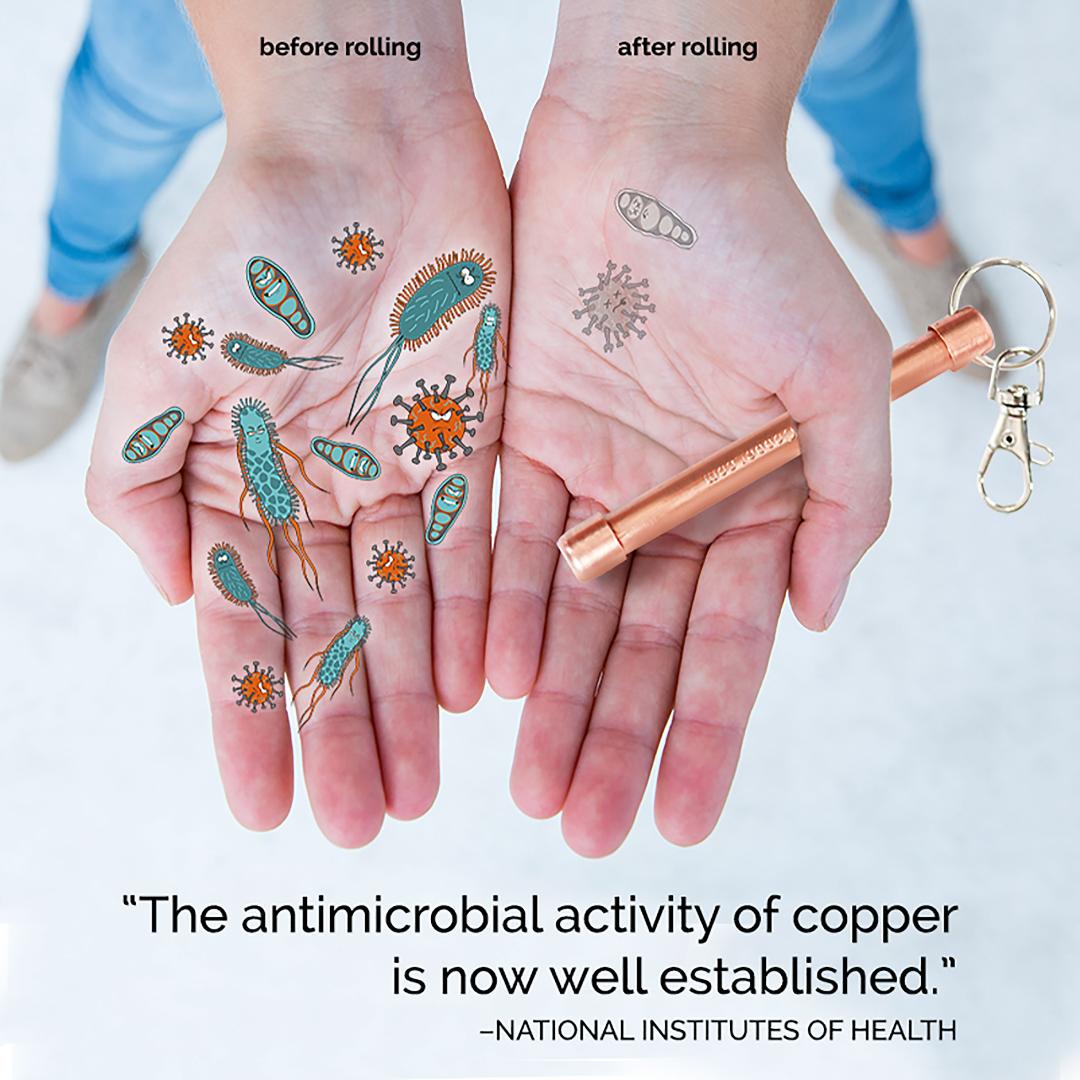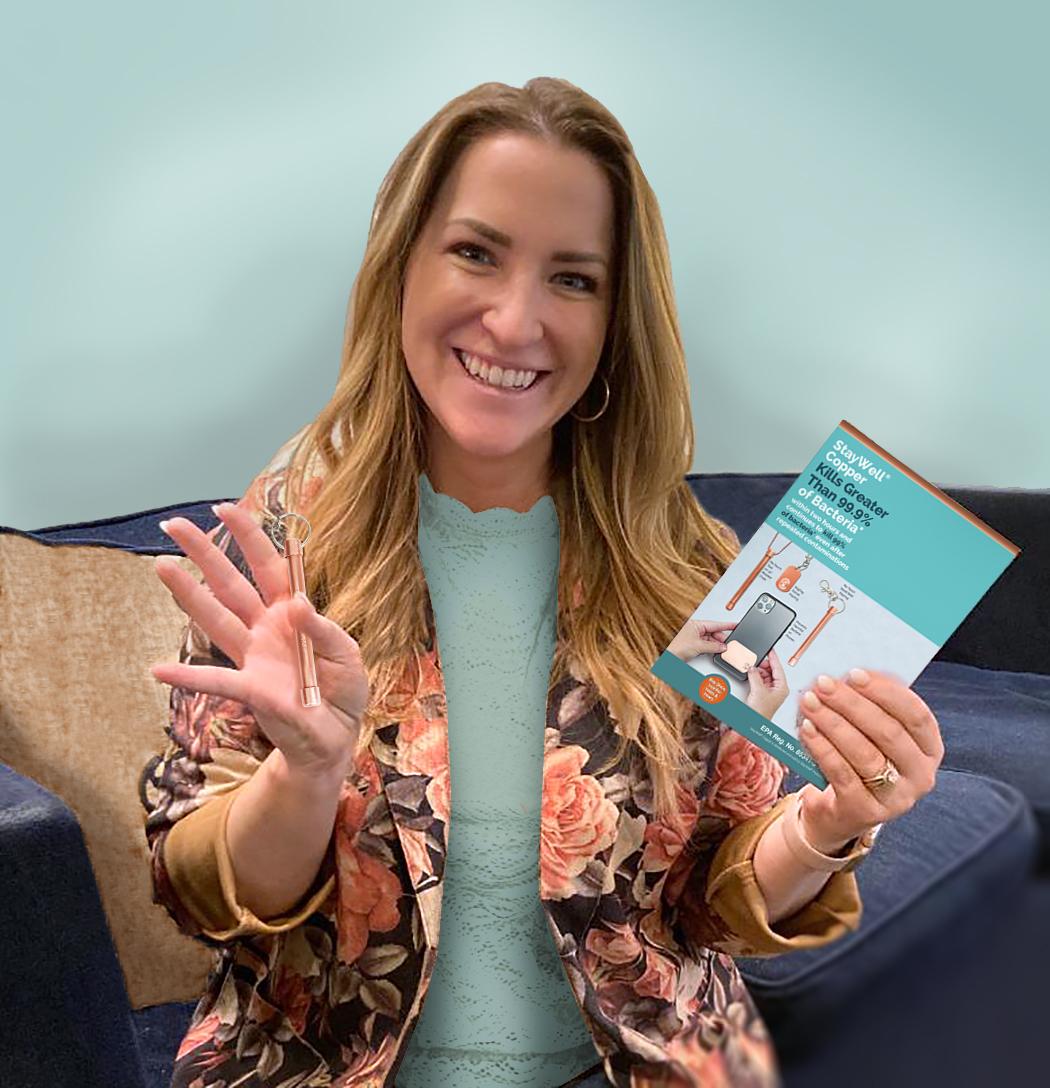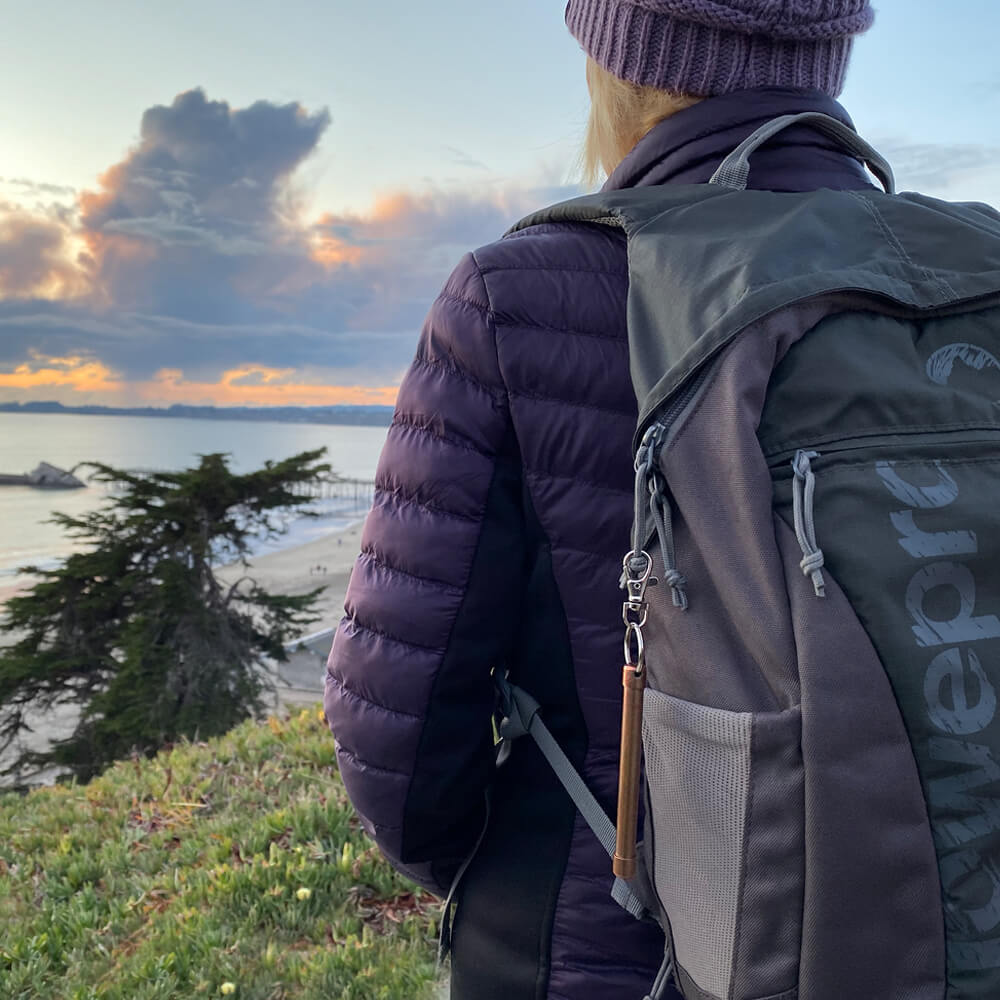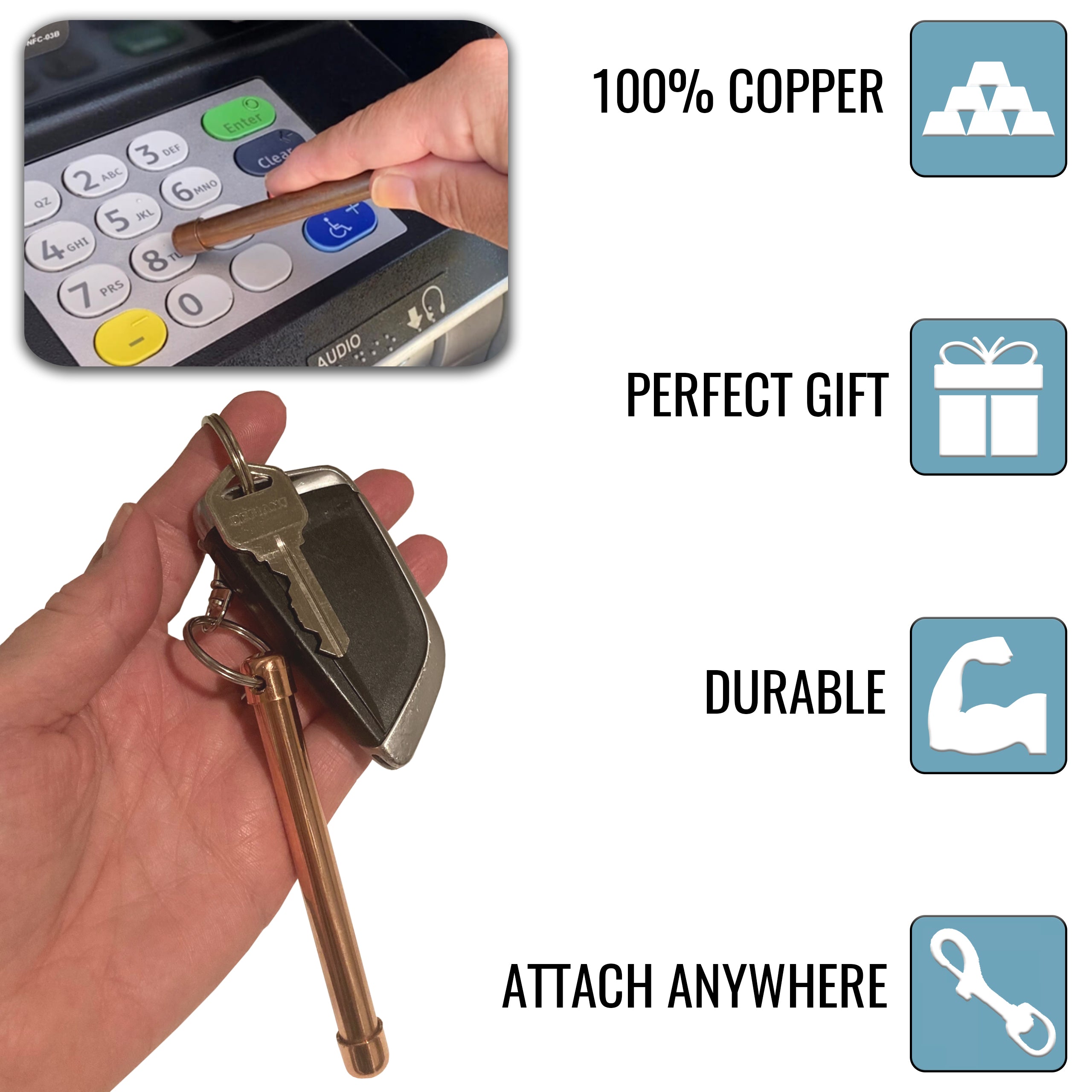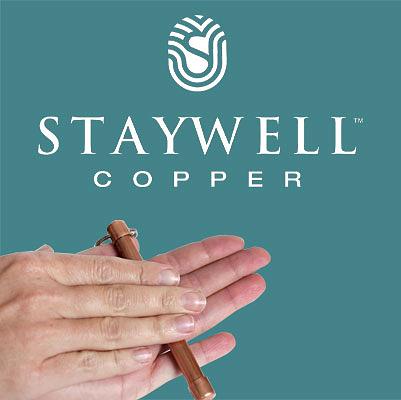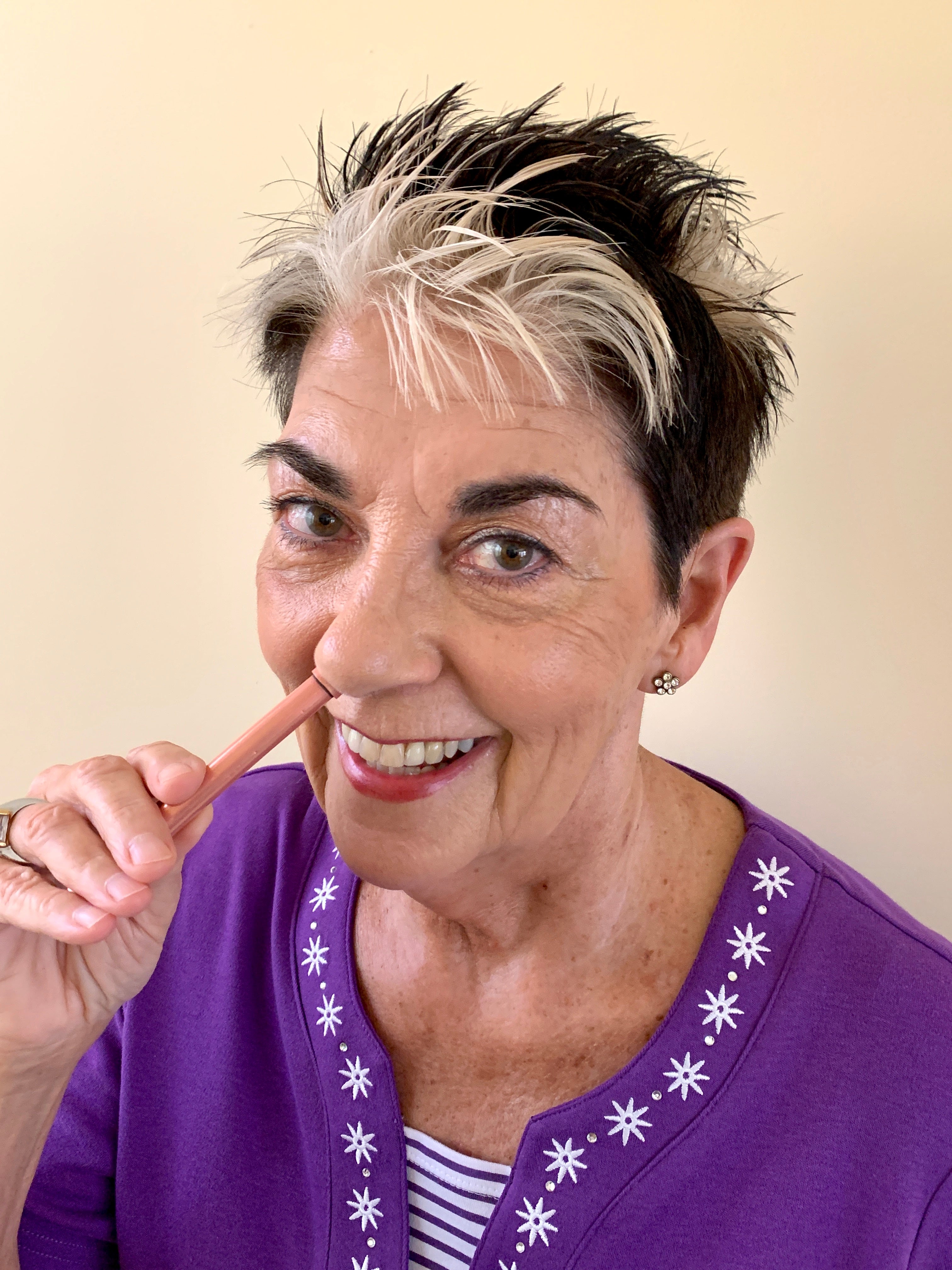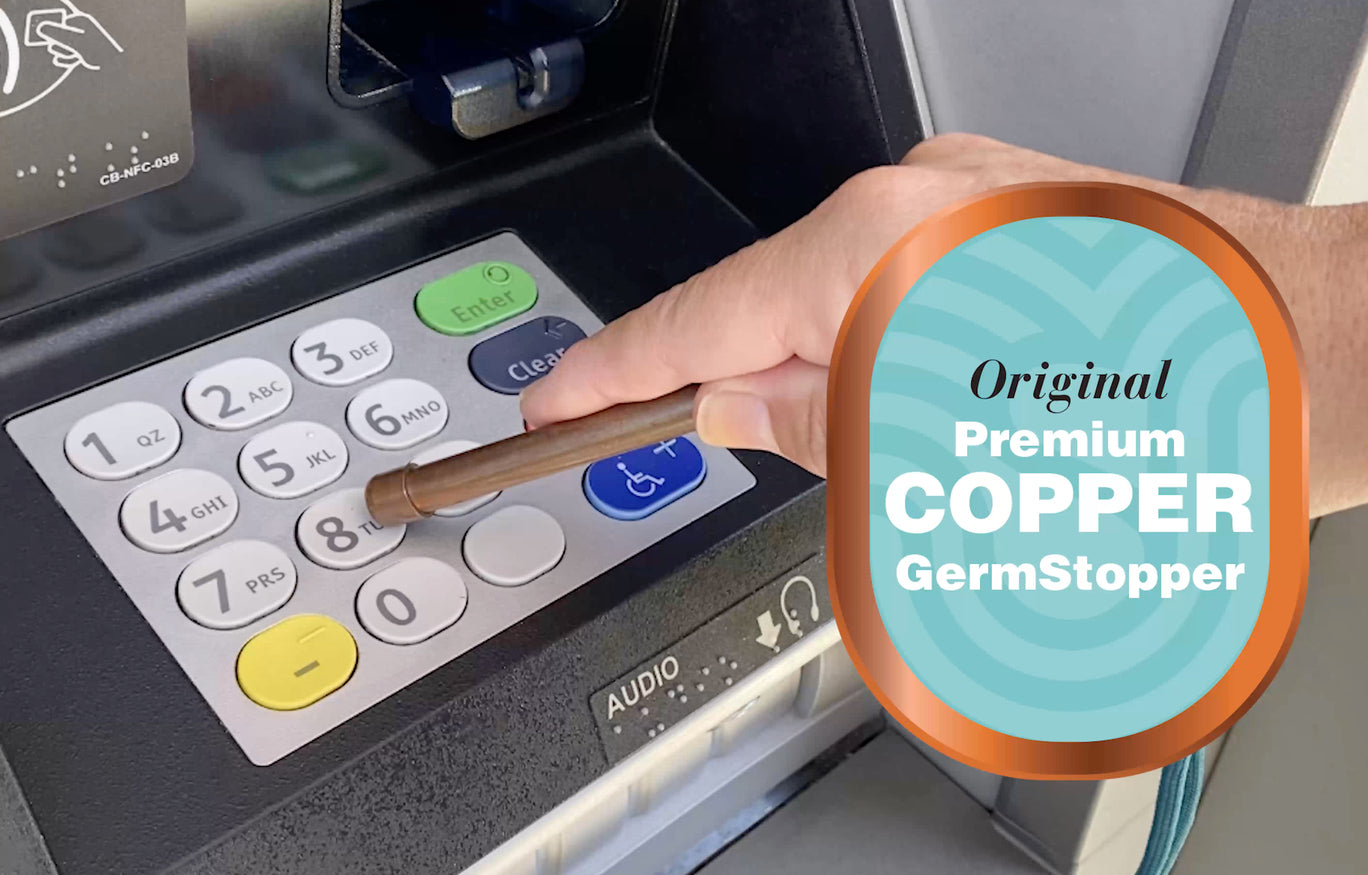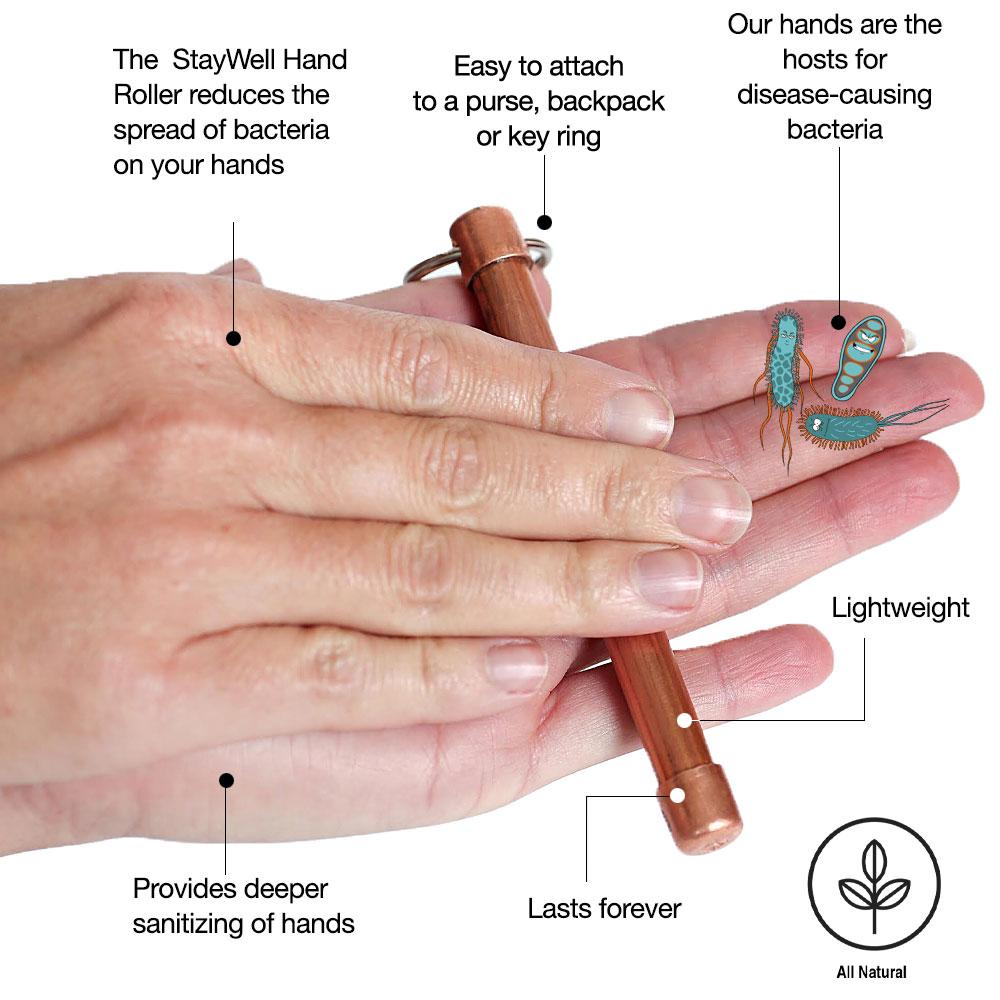 Hand Roller with Swivel Keychain Clip
STAYWELL® COPPER
StayWell® Copper is a natural antimicrobial surface that continuously kills bacteria* left behind by dirty hands on the surface. Laboratory testing has shown that StayWell® Copper can kill more than 99.9% of bacteria* within 2 hours.
Staphylococcus aureus, Enterobacter aerogenes, Methicillin-Resistant Staphylococcus aureus (MRSA), Escherichia coli O157:H7, Pseudomonas aeruginosa and, Vancomycin – Resistant Enterococcus faecalis (VRE).
Benefits of StayWell® Copper:
Made from a natural, renewable resource
Non-toxic and does not produce any harmful chemicals
Environmentally friendly
Can be used in homes, businesses, and healthcare facilities
The Science Behind Copper:
Please read the science behind copper referenced from scientific journals and educational institutions here: The Science
STAYWELL® COPPER
Convenient: StayWell® Copper is always near or on the things you touch the most.
Ingredients: Pure unlacquered solid antimicrobial copper.
Use Forever: StayWell® Copper never stops killing bacteria. No refills, batteries, mess, or waste.
Attaches Anywhere: StayWell® Copper attaches to the things you touch the most.
Made in the USA: StayWell® Copper is made in the USA from 99.94% antimicrobial recycled EPA registered American copper.
Woman-owned company: StayWell® Copper is a woman-owned company.
Learn more: Explore our website to learn more about StayWell® Copper.
Disclaimer: To comply with strict medical advertising policies, we are required to add the following disclaimer. StayWell® Copper is not a medical device and is not intended to diagnose, treat, cure, or prevent any disease.
staywell copper
Key Features
✔ Kills 99.9% of Harmful Bacteria ~ Use in addition to handwashing
✔ Self Sanitizing
✔Convenient
✔ Economical ~ One time purchase, for life
✔ No refills, batteries, mess, or waste
✔ All Natural and Chemical Free
✔ Proudly Made in the USA from 99.94% endlessly recyclable EPA registered antimicrobial American Copper. EPA Reg No. 85341-3-99000
✔ Ensures high quality standards by sourcing and fabricating our products in state-of-the-art EPA approved USA facilities
✔ Woman Owned Company creating the best products possible using the Best Natural American Ingredients
The Miracle of Copper
It's hard to believe I've been in the dark all these years. My sister told me about microfiber Norwex cloths that have silver in them for antibacterial purposes, and now...to have COPPER, too? I hang my little pencil wand off my purse. Great and convenient if one is on the road somewhere and get to one of the dirty little restrooms. Honestly, this is really fantastic!!
Works great! StayWell Copper is awesome, did a little research and it is the product for me. I keep this Roller on my keys and use it daily. Great product!!! Just bought a Phone Patch for my phone as well - I touch it all the time and it needs StayWell.
I travel ALOT
I travel internationally for business and pleasure. I always take my StayWell Copper hand roller with me and I never get sick. Traveling is a germ party waiting to make me sick. Not with StayWell. These make perfect gifts. Well made and really works.
So thrilled to still be free from colds
I have been using StayWell Copper since 2018 and I love it. No colds. No Covid. So simple. Rubbing chemicals into my skin with hand sanitizers grosses me out. StayWell Copper keeps me free from harmful bacterial contaminations year in and year. I still use my original purchases and they still work perfectly. Great product. Great company. Thrilled they are Made In USA. Have used for gifts and will continue to. 5 stars all the way. Thank you.
I am waiting to see if there have been in changes in my feelings about my health.