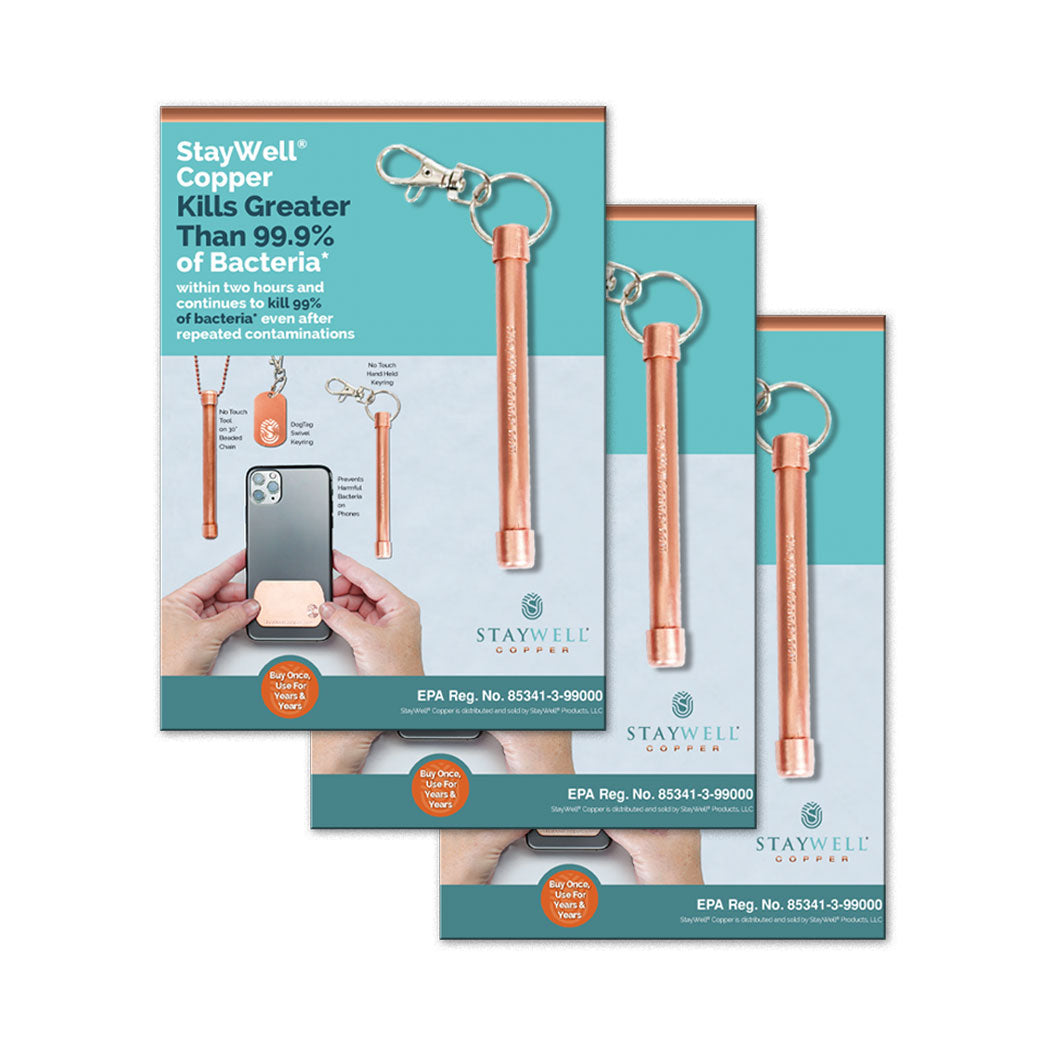 SPECIAL OFFER - Buy 2 Get 1 Free - Hand Roller with Swivel Keychain Clip
STAYWELL® COPPER
StayWell® Copper is a natural antimicrobial surface that continuously kills bacteria* left behind by dirty hands on the surface. Laboratory testing has shown that StayWell® Copper can kill more than 99.9% of bacteria* within 2 hours.
Staphylococcus aureus, Enterobacter aerogenes, Methicillin-Resistant Staphylococcus aureus (MRSA), Escherichia coli O157:H7, Pseudomonas aeruginosa and, Vancomycin – Resistant Enterococcus faecalis (VRE).
Benefits of StayWell® Copper:
Made from a natural, renewable resource
Non-toxic and does not produce any harmful chemicals
Environmentally friendly
Can be used in homes, businesses, and healthcare facilities
The Science Behind Copper:
Please read the science behind copper referenced from scientific journals and educational institutions here: The Science
STAYWELL® COPPER
Convenient: StayWell® Copper is always near or on the things you touch the most.
Ingredients: Pure unlacquered solid antimicrobial copper.
Use Forever: StayWell® Copper never stops killing bacteria. No refills, batteries, mess, or waste.
Attaches Anywhere: StayWell® Copper attaches to the things you touch the most.
Made in the USA: StayWell® Copper is made in the USA from 99.94% antimicrobial recycled EPA registered American copper.
Woman-owned company: StayWell® Copper is a woman-owned company.
Learn more: Explore our website to learn more about StayWell® Copper.
Disclaimer: To comply with strict medical advertising policies, we are required to add the following disclaimer. StayWell® Copper is not a medical device and is not intended to diagnose, treat, cure, or prevent any disease.
staywell copper
Key Features
✔ Kills 99.9% of Harmful Bacteria ~ Use in addition to handwashing
✔ Self Sanitizing
✔Convenient
✔ Economical ~ One time purchase, for life
✔ No refills, batteries, mess, or waste
✔ All Natural and Chemical Free
✔ Proudly Made in the USA from 99.94% endlessly recyclable EPA registered antimicrobial American Copper. EPA Reg No. 85341-3-99000
✔ Ensures high quality standards by sourcing and fabricating our products in state-of-the-art EPA approved USA facilities
✔ Woman Owned Company creating the best products possible using the Best Natural American Ingredients
Don't know
Haven't received the product yet. Last it was seen was on March 31.
Great new gadget!
I thought these were such a great idea and an alternative to hand washing or using sanitizer, which is so drying. It's super easy to use. What a great idea! I never knew that Copper had such abilities.
Great tool
Great tool for keeping your self protected without having to use chemicals!! So happy with my purchase.
Safety First
I am always curious and found I didn't know what part copper played in our lives, so I'm going to give it a try. Safety First is IMPORTANT to ME
Great products
The buy 2, get 1 hand roller with swivel clip is an awesome offer. The rollers are beautiful copper and the information included for how to use is excellent. The ordering process was very fast, easy and secure. I received emails on order status and shipping status with tracking. I received the package 7 days after ordering with a Thank You card and a hand written note from Jenny, the owner. It was a wonderful bonus to the already great purchase!