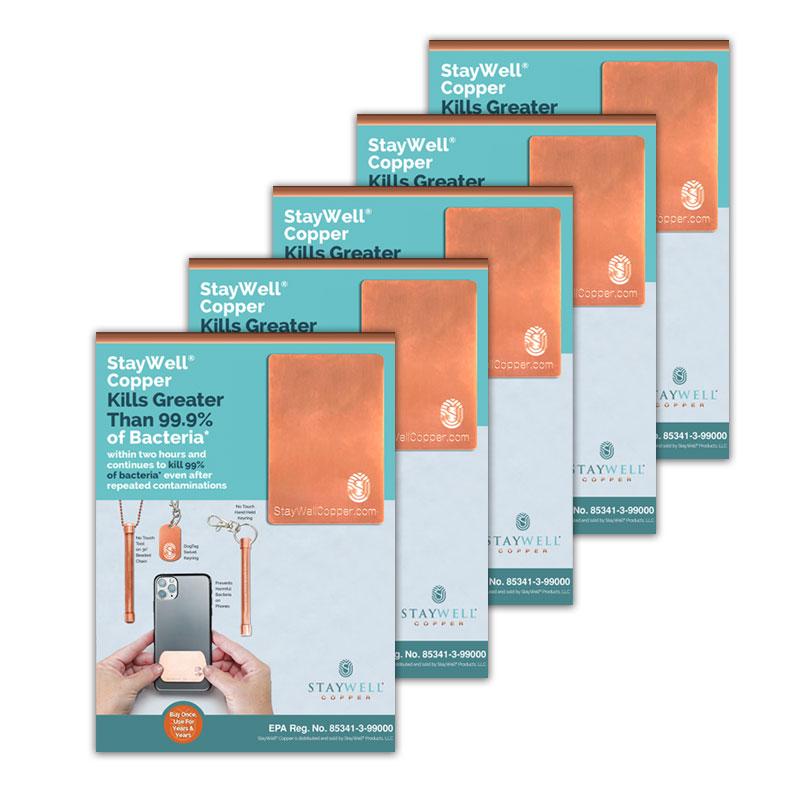 FREE UPGRADE FROM 5 MEDIUM TO 5 LARGE PATCHES
STAYWELL® COPPER
StayWell® Copper is a natural antimicrobial surface that continuously kills bacteria* left behind by dirty hands on the surface. Laboratory testing has shown that StayWell® Copper can kill more than 99.9% of bacteria* within 2 hours.
Staphylococcus aureus, Enterobacter aerogenes, Methicillin-Resistant Staphylococcus aureus (MRSA), Escherichia coli O157:H7, Pseudomonas aeruginosa and, Vancomycin – Resistant Enterococcus faecalis (VRE).
Benefits of StayWell® Copper:
Made from a natural, renewable resource
Non-toxic and does not produce any harmful chemicals
Environmentally friendly
Can be used in homes, businesses, and healthcare facilities
The Science Behind Copper:
Please read the science behind copper referenced from scientific journals and educational institutions here: The Science
STAYWELL® COPPER
Convenient: StayWell® Copper is always near or on the things you touch the most.
Ingredients: Pure unlacquered solid antimicrobial copper.
Use Forever: StayWell® Copper never stops killing bacteria. No refills, batteries, mess, or waste.
Attaches Anywhere: StayWell® Copper attaches to the things you touch the most.
Made in the USA: StayWell® Copper is made in the USA from 99.94% antimicrobial recycled EPA registered American copper.
Woman-owned company: StayWell® Copper is a woman-owned company.
Learn more: Explore our website to learn more about StayWell® Copper.
Disclaimer: To comply with strict medical advertising policies, we are required to add the following disclaimer. StayWell® Copper is not a medical device and is not intended to diagnose, treat, cure, or prevent any disease.
staywell copper
Key Features
✔ Kills 99.9% of Harmful Bacteria ~ Use in addition to handwashing
✔ Self Sanitizing
✔Convenient
✔ Economical ~ One time purchase, for life
✔ No refills, batteries, mess, or waste
✔ All Natural and Chemical Free
✔ Proudly Made in the USA from 99.94% endlessly recyclable EPA registered antimicrobial American Copper. EPA Reg No. 85341-3-99000
✔ Ensures high quality standards by sourcing and fabricating our products in state-of-the-art EPA approved USA facilities
✔ Woman Owned Company creating the best products possible using the Best Natural American Ingredients
Not exactly thrilled
I was apparently misled by the photos posted in the ad from which I decided to purchase the copper patches. I tried to find an exact description of what I was purchasing
But could find no specifics beyond the photos of the pkg, which included the patch, roller, dog tag and 1 or 2 other items. I only received the large
patch x 5. Nothing in the process indicated that upgrading to large size would mean I would not get all the items pictured. What's up with that?